So, this weekend marks one of the most nostalgic motoring events in the world. Set on the iconic 12,000 acre Goodwood Estate, the annual 'Revival' is a three day festival of historic racing cars, vintage brands and impeccable period fashion.
Now with this event looming ever closer, you may find it the topic of conversation before your weekly meeting, or over that after work pint OR you may even be attending this year. Because of these possible scenarios, I have taken the liberty to create this 'idiots guide' to ensure you look like you know your stuff, even if, right now, you are completely clueless.
WHAT IS GOODWOOD REVIVAL?
Goodwood Revival is about classic cars, but mostly it's about dressing up. The single rule is that you wear clothes either from or inspired by times yore - right through from the Thirties to the Seventies. And the standard is high. Absurdly high. You don't just raid the dressing up box for your outfit - high quality, often original vintage garments are commonplace.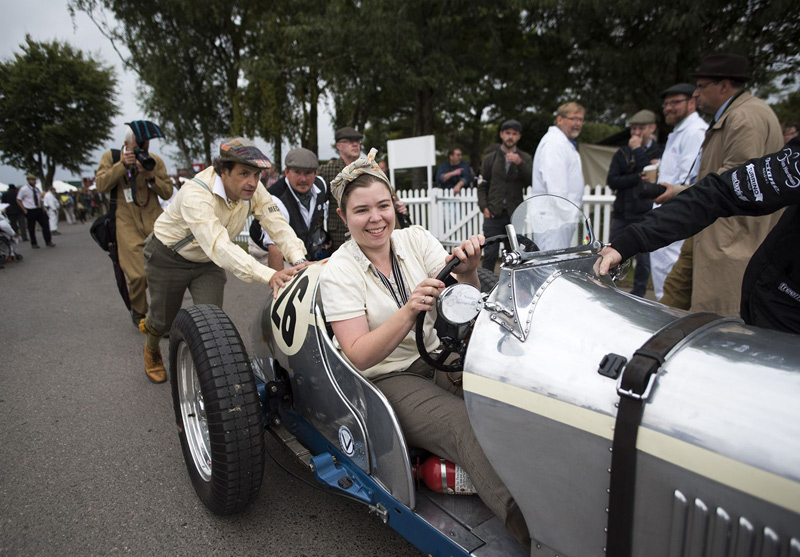 WHERE IS GOODWOOD REVIVAL?
Goodwood Circuit is a historic venue for both two- and four-wheeled motorsport in the United Kingdom. The 3.8 kilometres (2.4 mi) circuit is situated near Chichester, West Sussex, close to the south coast of England, on the estate of Goodwood House, and completely encircles Chichester/Goodwood Airport. This is the racing circuit dating from 1948, not to be confused with the separate hillclimb course located at Goodwood House and first used in 1936.
WHEN IS GOODWOOD REVIVAL?
The first Revival took place in 1998, 50 years after the 9th Duke of Richmond and Gordon opened the motor racing track in 1948. Since then, its mid-September date has now firmly established itself in the international motorsport calendar. This year it is organised 7th-9th September with most of the racing takes place on the Saturday and Sunday, though pretty much all the weekend's competitors will be taking advantage of practice sessions on the track on Friday. Saturday and Sunday then have seven races each.
WHAT WILL YOU SEE ON THE TRACK?
The Goodwood Revival is an authentic recreation of motorsport from days gone by, the Revival is a celebration of classic racing, focused firmly on the era between 1948 and 1966. It was during this time that the Goodwood Circuit enjoyed its golden years, beginning when it hosted Britain's first post-war motor race and ending when racing cars became too fast for the track itself.
The festival includes Grand Prix cars from the 1950s and 1960s, sports and GT cars, as well as historic saloon cars. Many of these important historic racing cars are driven by famous names from motorsport past and present. Famous drivers who have taken part include Sir Stirling Moss, David Coulthard and Damon Hill to name a few. Celebrities also like to get in the act with stars such as Chris Rea, and Rowan Atkinson (as Mr. Bean) in 2009 trying their hand on the famous track.
No modern vehicles are allowed within the circuit perimeter throughout the weekend.
If you are off to Goodwood Revival 2018 then you are perhaps wondering what the dress code is for gentlemen.
G

oodwood Revival is the only motor racing event to be staged entirely in period dress. petrol heads and vintage fashion enthusiasts, alike, hit the grandstands in 40s, 50s and 60s attire. The styling has become as important as the cars on the track.
Although not compulsory, the vast majority of visitors choose to embrace the theme to complement the 300 actors and actresses on-site dressed in full vintage regalia. Attention to detail and wit behind ensembles is applauded, and could earn guests a place on the best dressed shortlist.
A classic look is the suit – which should typically be made from thick, worsted wool or tweed. Go for a muted colour such as dark brown, grey or navy, or opt for a wide chalk stripe or overplaid pattern. Double-breasted jackets also rose to prominence during the 1940s, so pair one of these with a pair of flat-fronted or single-pleated trousers and you'll be onto a winner.
In terms of accessorising, braces may be a classic look, but belts had started to replace button loop suspenders by the time World War II came to a close. Instead, go for a thin belt with a metal buckle, tuck a handkerchief into your top pocket, slip into a pair of two-tone brogues and pop a wool felt trilby on your head.
The conservative business suit ruled once again during the 1950s, so why not try wearing a grey flannel suit with pleated trousers. The fifties also saw patterns move to the fore, so don't shy away from striped shirts, spotted ties and the iconic Argyle cardigan.
Braces were back, and hats had never gone away – so find a fedora and jazz it up with a coloured band. The fifties also saw men beginning to wear pink during a period known as the 'pink rage' so, by injecting a little rose into your outfit, you'll distinguish yourself from those uptight and monochromatic forties fellows.
The thing that's so accessible about getting that Sixties look is that the era was a time of limitless fashion in terms of the divergent and varied styles that emerged; think Mod, Bohemia, Bikers and Beatnik styled clothing.
A cable knit jumper combined with a Harrington jacket will give you a classic Steve McQueen look. Add some well-pressed chinos and a pair of loafers and for extra cool points, try tortoiseshell wayfarer sunglasses.
For a more tailored outfit, a three-buttoned slim-fit suit with very thin notch lapels, a spearpoint collared shirt and a skinny knitted tie with make you look like Brian Jones.
The 1970s were bright, brash and often embarrassing – so only go for this decade if you're feeling particularly brave.
Pair bell-bottom jeans with tie dye shirts for early seventies or, if you want to go for the glam rock look, try anything in Royal Stewart tartan, a velvet sports coat or a colourful shawl collar tuxedo jacket. For added flounce, a silk scarf or ascot will never go amiss.
So there it is, your idiots guide to the Goodwood Revival. Enjoy…